Even as a child, MARY AU was an unabashed lover of music as well as of food. Her mission is to make classical music part of the fabric of everyday life, in settings where both audience and artist can share in the joy of live music.
Feel free to view Mary's music biography, performance schedule, and repertoire lists.
Musings from the Mind of Mary
Musings
Reflections on my music career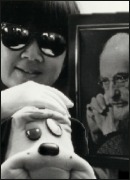 When I reflect on my music career, I am blessed to have collaborated with renowned artists such as Christine Brewer, Nathaniel Rosen, Evan Drachman, Ruslan Biryukov, Dennis Trembly, Joseph Gold, Anne Akiko Meyers, Joan Kwoun, Alice Schoenfeld, Eleonore Schoenfeld, Aretha Lockhart, and Myung Whun Chung. I was also fortunate to experience the pleasure of working among some of the most powerful individuals in the music world. My business career within the entertainment industry (at the Grammy Awards and at a record label) gave me the opportunity to develop a relationship with some highly respected world class recording artists, pedagogues, composers, engineers and executives. My association with these individuals gave me a profound understanding of artistic excellence, and strengthened my commitment to embrace a career of service through music.
I am honored to have been a mentor to many people; to have the opportunity to share my knowledge so others can make beautiful music, and through that bring joy to others. This is one of the greatest blessings ever bestowed on me. (USC has honored me greatly by bestowing upon me the Mellon Award for Excellence in Mentoring).
Imagine a society where people are united through the beauty of music and work toward the common good of a society where our resources are spent on educating our youth. Music has the power to create positive feelings in individuals; it keeps our children focused and provides a sense of community.
However, regardless of where I travel, I find that many people have no opportunity to experience the beauty and hopefulness of live classical music. I am blessed to have performed in outreach recitals and mentored the development of young artists. Through service to others, I found the answer to my question "Why was this gift given to me and what am I to do with it?"
There is so much I want to accomplish and so little time in which to do it. I want to share my artistic talent, God's purest gift to humanity, with "audiences starving for the peace and beauty that music provides". I want to share my experience and knowledge with young people who are the future of classical music. I want to utilize my relationships and know how to foster opportunities and open doors for young artists and be a mentor to them. I want to share my resources with other musicians.
I am eager for opportunities that would allow me to help further the artistic, cultural and humanitarian mission of individuals, organizations of our country and of our world. Together with like-minded individuals, I look forward to upholding my commitment to a lifetime of music making, by sharing the art of music through regularly scheduled performances, outreach recitals and community service concerts.
-----
On "Jade Flute in Loyang"
Mary and famous poet Li Po are the dedicatees of Jade Flute in Loyang, a new composition for Dizi, Erhu, Pipa and orchestra by composer Carol Worthey. The inspiration for this piece hails from a poem by Li Po titled "Spring Night in Lo-Yang – Hearing A Flute." The following is Mary's own translation of the poem:
Whose jade flute is sending its soft fleeting tones drifting
through the spring breeze that fills Lo-Yang?
Upon hearing the Willow-breaking Song amidst tonight's melodies
who cannot help but yearn for the beautiful memories of home?